The National Association of REALTORS® and National Association of Landscape Professionals recently released the 2016 Remodeling Impact Report: Outdoor Features. The report showed that taking care of a home's lawn offers a relatively high return at resale. With this in mind, it is in a homeowner's best interest to seed their lawn, implement a standard lawn care program or even install a sod lawn to help ensure they receive the highest price possible for their home.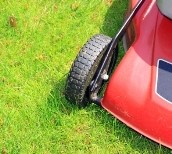 In addition to lawn care and landscape upgrades, other outdoor projects that REALTORS considered the most likely to add value to a home at resale include a new patio or wood deck, an outdoor fireplace/firepit and a pool. When it comes to pools, REALTORS are in agreement that only about 50 percent of the cost will be recouped at resale; however, of all the projects a pool scored highest on bringing joy to homeowners.
In fact, the study found that 95 percent of homeowners who completed a pool project said they have a greater desire to be home, 90 percent feel a major sense of accomplishment and 80 percent say they have an increased sense of enjoyment when they are at home. Other outdoor projects with a high Joy Score include an overall landscape upgrade and a new wood deck.
In the end, it's important to remember that any projects you undertake should first be for you and your family's enjoyment. It's a bonus if they also help boost curb appeal and help you sell your home at a higher price.
For more real estate tips and insights, visit the Weichert.com Research section at www.weichert.com/guides/.
Click here for a printable version of this message. 
Image courtesy of Simon Howden at FreeDigitalPhotos.net